Difficult guide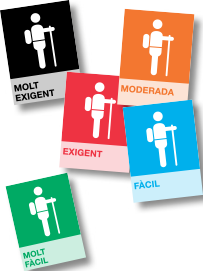 To assess homogeneously the technical and physical difficulty of the proposed itineraries, we have based on the Sendif method. This method evaluates the physical difficulty according to the total mileage of the route and the accumulated positive difference. This calculation determines 6 difficulties, ranging from very easy to very demanding.
With regard to the technical difficulty, 9 difficulties are assessed according to the characteristics of the land of the route.
In all the proposed itineraries you will find this information with the respective icons, except in the vertical itineraries and in the long-distance itineraries.